ARTIFICIAL INTELLIGENCE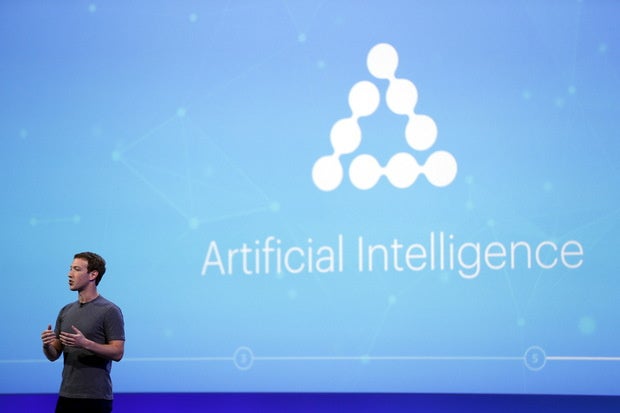 Art inspires life, right? Or maybe it is the other way around.
Either way, Mark Zuckerberg, CEO of Facebook, has taken a page from Tony Stark's book and created his own home-based A.I., called Jarvis, just like Tony Stark's is. So what was Zuckerberg able to accomplish, and what did he learn?
In IT Blogwatch, we wait for Zuck to become Iron Man.
So what is going on? Parker Wilhelm has the background:
Putting our goals of reading…books or running a half-marathon in perspective, Facebook CEO Mark Zuckerberg's…challenge for 2016 was to build himself an A.I. to help automate his home.
…
Now that the year is coming to a close…Zuckerberg shared the results from his Iron Man-style Jarvis project…In addition to showing how far his…project came…this year, Zuckerberg…[showed] us glimpses as to where home automation and artificial intelligence is heading.
And people say Elon Musk us the real life Tony Stark. So what can this Jarvis do? Jessica Guynn fills us in:
With…Jarvis…Zuckerberg wanted to use his voice to control everything in his house, from the music to the lights to the temperature. He also wanted Jarvis to swing open the front gate for friends by recognizing their faces.
…
One of the biggest challenges Zuckerberg faced: Connecting all of his home devices. First he had to write code to connect…different systems that speak different languages…A central problem: Most appliances aren't connected to the internet yet.
Despite these challenges, what was Zuckerberg able to accomplish? Deborah M. Todd is in the know:
By the end of the year, Jarvis was able to respond to text and voice commands and…could run music, air conditioning, doors, and…It could recognize visitors, start a toaster and…shoot t-shirts from a cannon in his closet.
…
Adjustments made to help Jarvis recognize context…helped the system respond to less specific requests…better…such as asking the system to "play me some music."
Any big accomplishments with this project (besides the mere fact he built a home A.I. system in his spare time?) Daniel Terdiman had an exclusive interview:
One of the Jarvis features…Zuckerberg is most proud of is its ability to learn his and Priscilla's musical tastes…when she asks it to play something, it can select a song taking her preferences into consideration rather than his. At the same time, he designed it so it would respond to requests like playing a certain style of music — light, or family, for example — or music similar to that of specific artists.
So was Jarvis a success? Michael Nunez shares his opinion:
Jarvis…while still an incredible feat of programming, sounds just as dumb as the other smart homes…It can basically only run a handful of commands — and it's not for a lack of…trying.
…
The failures of Jarvis stem from the fact that there is a shortage of common standards and APIs that enable different brands of "smart" products to talk to each other. Without that necessary bridge between devices, stringing commands together can be rather difficult…it's hard to get a toaster to communicate with a alarm clock if they don't speak the same programming language…Mark Zuckerberg appears to have built a pretty cool A.I…But at the end of the day, even…Zuckerberg is bound to the same shortcomings of technology that the rest of us are.
So what did Zuckerberg learn from this challenge? We let his explain in his own words:
I've previously predicted that within 5-10 years we'll have A.I. systems that are more accurate than people for each of our senses…and this year makes me more confident in my prediction.
…
At the same time, we are still far off from understanding how learning works. Everything I did this year…are all variants of the same fundamental pattern recognition techniques…we still do not know how to take an idea from one domain and apply it to something completely different…even if I spent 1,000 more hours [building Jarvis], I probably wouldn't be able to build a system that could learn completely new skills on its own.
…
A.I. is both closer and farther off than we imagine. A.I. is closer to being able to do more powerful things than most people expect…but we're still figuring out what real intelligence is.
But we are still missing one very important piece of information about Zuckerberg's plans. Dan Gerson asks the big question:
We already know Ironman and Iron Patriot, what will you call your suit?
Zuckerberg's answer: The Iron Hoodie